Indiana University Guide
The Courtyard Bloomington hotel is conveniently located less than one mile from IU. Our comfortable hotel makes us the perfect Indiana University hotel whether you are visiting your loved one or cheering on one of the great Hoosier athletic teams!
Visit Bloomington - Stay at the Courtyard!
Expect warm hospitality and exceptional service from our friendly staff, eager to make your stay memorable. Enjoy spacious accommodations, plush bedding, free high-speed Internet access, and our onsite restaurant, the Courtyard Cafe®, where you can tap into the energy of the morning with Starbucks® coffee, eggs cooked-to-order, and other breakfast favorites.
Indiana University Facts
Total Enrollment: Approximately 42,700
Academic Schools, Colleges and Divisions: 17
Placement Rates: 97%
Things To Do When Visiting Indiana University Bloomington
A thriving live music scene, coffeehouses, open-air organic markets, eclectic restaurants, over 30 festivals, and picturesque scenery are just part of what makes Bloomington, Indiana, the cultural center of the Midwest. Our staff will be happy to assist you with any questions you may have and offer suggestions while you enjoy your stay at the Courtyard Bloomington.
Affectionately called B-town, Bloomington is the quintessential college town-active, intellectual, young, friendly, relaxed and safe. Our small city has a population of about 70,000, and cultural resources and opportunities that rival cities many times its size. Bloomington's lush rolling hills, limestone heritage and gorgeous seasons are a perfect setting for the state's oldest and largest winery, the country's only Tibetan cultural center, and the annual Lotus World Music and Arts Festival.
Indiana University Swimming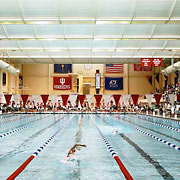 The Speedo Center is home of the IU Swimming and Diving team.
Related Links
IU Bloomington Website

IU Hoosiers Athletics

About Indiana University
Indiana University Bloomington attracts students from around the globe who want the ideal college experience-great traditions, a gorgeous campus, international culture, Big Ten sports, and an active academic climate.
Founded in 1820, IU Bloomington is the flagship campus of Indiana University's eight campuses statewide. Innovation, creativity and academic freedom are hallmarks of IU Bloomington and its world-class contributions in research and the arts. For our traditions like the world-famous Little 500 bicycle race and our commitment to emerging technologies, IU was named the "Hottest Big State School" in 2005 by Newsweek, America's Hot Colleges.
Outdoor Attractions
Lake Monroe, Griffy Lake, the Hoosier National Forest, and a variety of parks and trails provide opportunities for hiking, fishing, boating, biking, horseback riding and kayaking.